Love is in the spiderweb-filled city air of Los Angeles. The beloved Peter Parker and M.J. are head over heels for each other both in fictional and real life. Tom Holland and Zendaya have pulled back the curtain on their once covert relationship and put it on display for everyone to see. Now, all Marvel fans get to enjoy the genuine fawning of these beloved celebrities. Their most recent public display of affection came through an adorable Instagram post from our favorite web-slinging hero, Tom Holland.
Zendaya Dazzles at Dune Premiere
It's no secret that Zendaya has taken the Hollywood movie industry by storm. Her most portrayal of Chani, the daughter of Imperial Planetologist Liet-Kynes, in Dune. Tom Holland didn't hesitate to profess his admiration of Zendaya's work on Instagram. Not one to mince words, Tom Holland left a simple but clear message, "Dune 😍" coupled with a stunning red carpet picture of Zendaya. Fans gushed over the public display of love leaving supportive comments and shipping their relationship. Zendaya responded with her own simple but clear message, "🥺." Aren't they so stinking cute?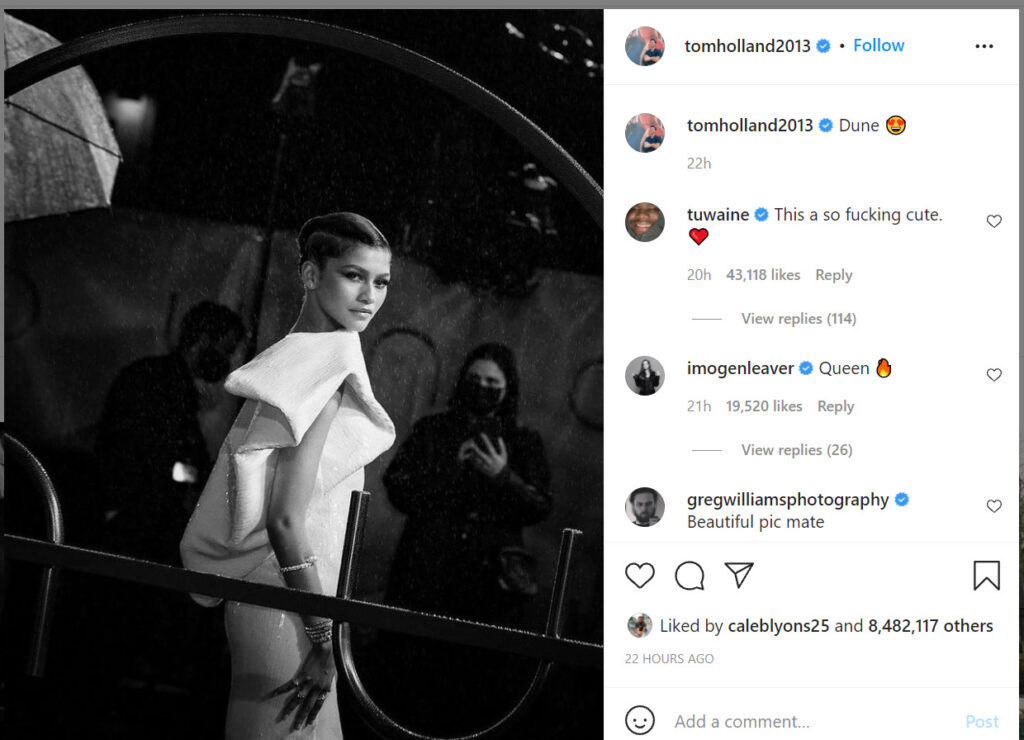 A Budding Relationship Between Tom Holland & Zendaya
Apparently, their interest in one another goes back all the way to the first Spiderman film. They went to great lengths to keep their relationship out of the public eye. It's only been recently that they've confirmed their relationship and now regularly display it publicly. There's something intrinsically special when two co-stars fall head over heels for each other. Those relationships must come with such pressure and expectations, but Zendaya and Tom Holland seem to be handling the lime light well. 
Here at FilMonger, we took time to look at old interviews, Instagram stories, and movie scenes hoping to track the development of their love for one another. In the video below, you can kick back, relax, and enjoy all the cute, tender moments between Zendaya and Tom Holland.