Emilia Clarke becomes the 11th actor from the popular mythological series Game of Thrones to play a role in the Marvel Cinematic Universe.
Khaleesi in MCU
Emilia Clarke rose to fame for her portrayal of Daenerys Targaryen, also known as Khaleesi in the fantasy tv show, Game of Thrones. Now the actor will take on the role of the skrull G'iah in the upcoming Marvel tv series Secret Invasion and will join the ranks of costars like Richard Mdden, Peter Dinklage and Sophie Turner who have starred in various Marvel films in the past.
The TV show will primarily feature SHIELD and Earth's battle with a rogue group of shapeshifting aliens known as Skrulls which were previously featured in the Captain Marvel movie and will star Samuel L Jackson, Cobie Smulders, Don Cheadle will also be the MCU debut for Olivia Colman.
Emilia Clarke on her role in Secret Invasion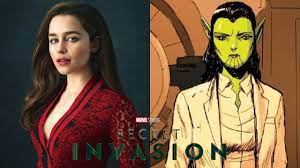 The role itself proved to be a challenge for Clarke, as the make up and costuming and other elements of the character made her feel "claustrophobic" and that she simply prefers the human form of her character in the show. But as the Skrulls are shapeshifters, the constant changes in costumes and makeup would be a big adjustment but I think the mother of dragons will be up to the challenge.