Lil Tay, who garnered widespread attention in August 2023 when she was falsely reported dead, has made a remarkable comeback. The 14-year-old artist recently released a music video for her latest track, SUCKER 4 GREEN.
In her music video, Lil Tay, whose real name is Tay Tian, pays homage to her viral fame on TikTok, where she initially gained recognition by flaunting extravagant wealth as a pre-teen. The video showcases Tay dancing at an opulent modernist estate, accompanied by suit-clad backup dancers and luxurious cars.
The song's lyrics appear to emphasize the theme of money, with a catchy chorus,
Money, money, money/ Money, money, money/ I just can't look away from it/ I want it, want it, want it.
Social Media Buzz
Tay shared the music video on Instagram, excitedly announcing her return. Within just one day, the video garnered over 1.7 million views, demonstrating her enduring popularity. In response to the positive reception, Tay expressed her independence in creating the song and called out her detractors.
During an Instagram Live session, Tay delivered cryptic messages, hinting at her future plans in the entertainment industry. She mentioned that the video and song provide only glimpses of her artistic evolution and growth. However, she did not clarify whom or what she intended to expose, leaving fans intrigued.
The Death Hoax
In August 2023, a shocking statement appeared on Lil Tay's Instagram page, allegedly from her family, announcing her and her brother Jason Tian's deaths and implying their deaths were under investigation. The statement claimed a sudden and tragic passing and left fans in shock.
However, on August 10, Lil Tay clarified to TMZ that she was alive and well. She stated that her Instagram had been hacked to spread the false report of her death. In a statement released by her family, she revealed her real name to be Tay Tian and expressed her trauma over the incident.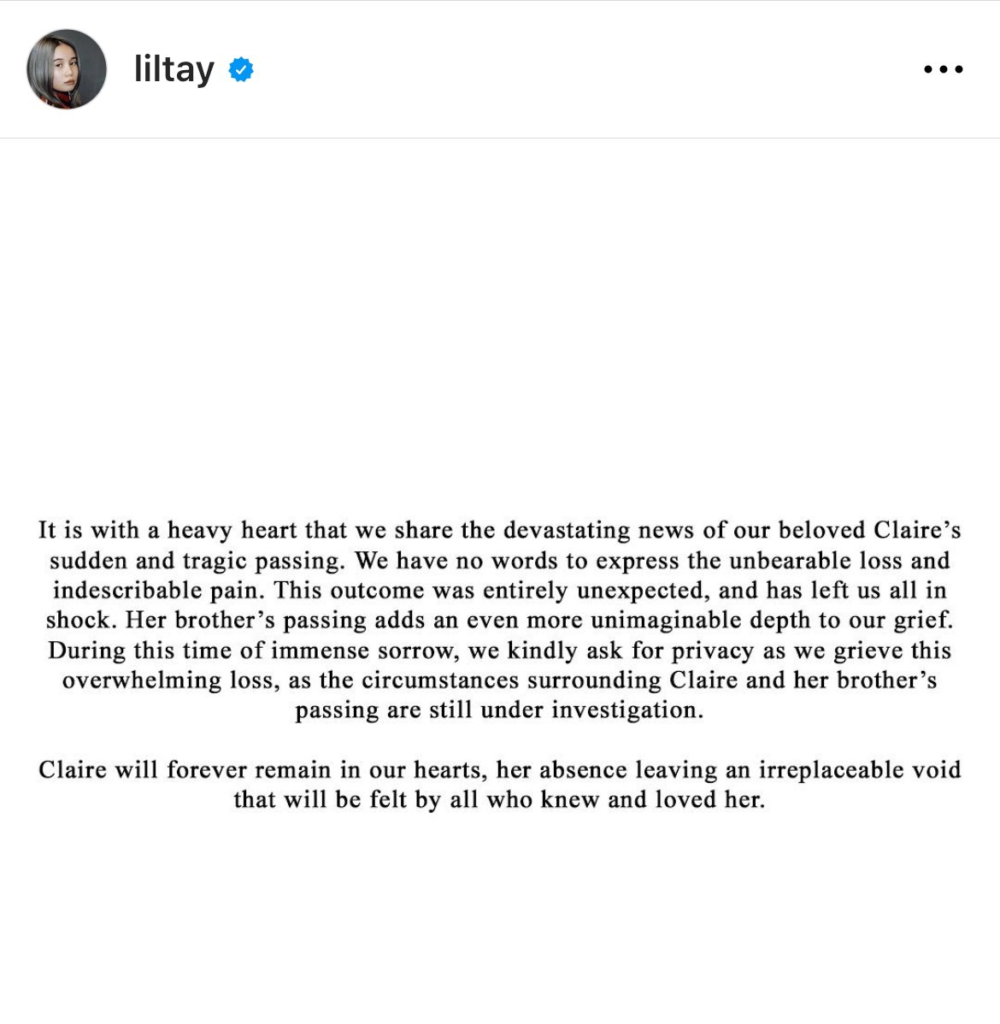 Accusations Against Father
Lil Tay accused her father, Christopher Hope, of orchestrating the death hoax in September. In a social media post, she alleged that her father was abusive, racist, misogynistic, and a woman-beater. Christopher Hope denied these claims, and he asserted that he would consider legal action against those involved in spreading false accusations.
Since the incident, Lil Tay has remained relatively silent on social media. However, her recent return with the music video and removal of all content from her TikTok account, except for clips from the video, signals a fresh start in her career.