MCU Phase 6 faces major delays due to Hollywood strikes, reshuffling Phase 5 and leaving Phase 6 start uncertain until late Spring 2025.
In a world where superheroes and epic tales rule the silver screen, it seems that even the mighty Marvel Cinematic Universe (MCU) is not immune to the capricious winds of change. With Phase 5 already experiencing turbulence due to unforeseen challenges, the fate of Phase 6 now hangs in the balance, leaving fans on the edge of their seats, eagerly awaiting the next chapter in this cinematic saga.
Phase 5's Rocky Road and Its Impact on Phase 6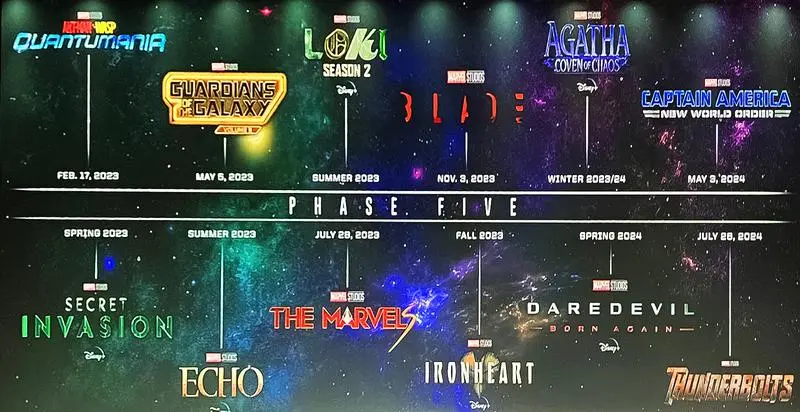 Marvel Studios, renowned for its meticulous planning and impeccable execution, unveiled its Phase 5 slate with much fanfare at the 2022 San Diego Comic-Con. However, in the ever-evolving landscape of Tinseltown, plans are known to shift like dunes in a desert storm. Phase 5 faced its share of setbacks, including the global disruptions caused by the COVID-19 pandemic and a need to recalibrate the creative compass following mixed reactions to Phase 4. These hiccups prompted a recalibration towards quality over quantity.
Just as the MCU was beginning to regain its footing, a new threat loomed on the horizon. Hollywood found itself plunged into chaos with a writers' and actors' strike, causing further delays and uncertainty. It's as if the universe itself conspired to test the resilience of Earth's mightiest heroes.
The ripple effect of these disruptions reached deep into the heart of the MCU's Phase 6. Recent developments have forced Marvel Studios to reshuffle its Phase 5 and 6 release schedules, a move driven by the ongoing strikes in Hollywood. This shuffle has pushed back the release dates of highly anticipated Disney+ series such as Echo, Ironheart, Agatha: Darkhold Diaries, and Daredevil: Born Again.
For instance, Agatha: House of Harkness, originally slated for a Winter 2023/24 debut, has transformed and will now grace our screens in Fall 2024 under the title Agatha: Darkhold Diaries. Similarly, Echo, initially scheduled as the second Disney+ show of Phase 5 in Summer 2023, has leaped into the future, now set to premiere in January 2024 as the third installment of the MCU chapter, leapfrogging over the anticipated Loki Season 2.
The Phase 5 lineup boasts four live-action shows slated for release in 2024 and beyond six episodes of Ironheart, nine episodes of Agatha, 18 episodes of Daredevil, and six episodes of Echo. With a staggering 34 weeks of content scheduled between these shows, the possibility of all of them making their debut on Disney+ in 2024 appears increasingly uncertain. The production of Daredevil: Born Again currently remains incomplete and at a standstill.
Release dates for Daredevil and Ironheart have become enigmatic, even though the latter finished production long ago. Originally pegged for Spring 2024 and Fall 2023, respectively, their release dates now hang in limbo. The once-expected conclusion of Phase 5 with Thunderbolts in July 2024 has now found a new home in December, and it's uncertain whether it will even make that deadline. The MCU chapter is poised to extend well into 2025.
The signs of Phase 6's delayed arrival were already evident when Blade made an unexpected jump from November 2023 to February 2025. Whether this still falls under Phase 5 or marks the beginning of Phase 6 is anyone's guess.
Phase 6 Challenges, Delays, and the Road Ahead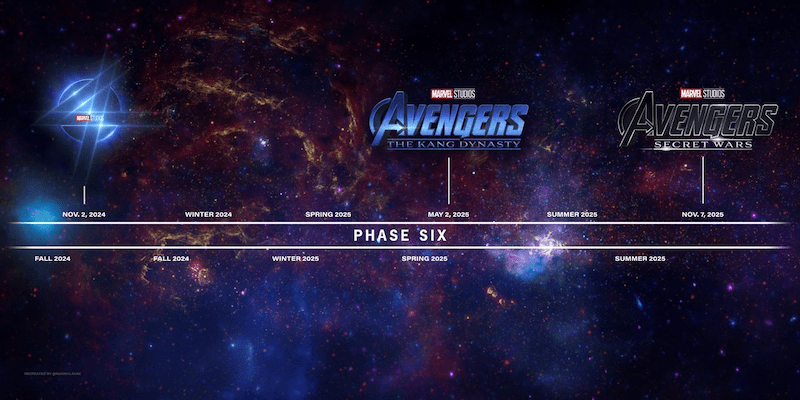 As the Marvel Cinematic Universe (MCU) continues its journey through cinematic history, Phase 6 emerges as a tantalizing enigma. With only a handful of confirmed projects on the slate, fans are left to ponder the mysteries that lie ahead in this new chapter of superhero storytelling.
At the 2022 San Diego Comic-Con, Marvel Studios presented a timeline that left eight intriguing gaps for unannounced projects. Among these, one slot is earmarked for the enigmatic Wonder Man, a character poised to bring his own unique flair to the MCU.
Marvel Studios has strategically staked its claim on three prime 2026 release dates: February 13, July 26, and November 6. These dates serve as breadcrumbs, hinting at the possibility of four more Disney+ series making their mark on the MCU tapestry.
In the realm of movies, the landscape is equally intriguing. The highly anticipated Iron Man spin-off, Armor Wars, starring Don Cheadle, appears destined to claim one of these coveted slots. The remaining two are expected to be claimed by Shang-Chi 2 and Doctor Strange 3, both of which promise to be integral components of the ongoing saga.
Interestingly, Eternals 2 finds itself pushed beyond Secret Wars into the next chapter, further fueling speculation about the narrative threads that will tie these stories together.
One notable absence from the officially announced slate is Spider-Man 4. While this web-slinging hero remains a beloved part of the MCU, his adventures will be distributed by Sony Pictures, a deviation from the traditional Marvel Studios releases. Nevertheless, fans can anticipate Spider-Man's return, with predictions pointing to a thrilling release on June 27, 2025.
Shifting the spotlight to Disney+, four captivating series are poised to claim their spots in Phase 6. Ms. Marvel and Moon Knight Season 2 are almost foregone conclusions, given their widespread popularity. Additionally, fans can look forward to the Vision Quest spin-off, delving deeper into the intrigue of WandaVision. As for the fourth series, it remains a tantalizing riddle, with She-Hulk Season 2 being a possible contender.
Among the burning questions surrounding Phase 6, one that looms large is the fate of Deadpool 3. Originally committed during the initial slate announcement, its placement suggests it may align more closely with Phase 5. However, the lines between MCU phases have blurred, with the Multiverse Saga seamlessly intertwining storylines across chapters, in stark contrast to the distinct chapters of the Infinity Saga.
As fans eagerly anticipate the unfolding of Phase 6, one can't help but wonder if the changing narrative structure and extended timelines have contributed to a shift in the dynamics of the MCU storyline. While Avengers blockbusters once graced the screen every few years, the gap between Endgame and The Kang Dynasty spans an unprecedented seven years.
The future of Phase 6 holds a beacon of hope in the form of Fantastic Four, the first officially dated project set to grace theaters on May 2, 2025. As the MCU continues to evolve, it remains a testament to the enduring allure of superhero storytelling, promising to captivate and inspire audiences for years to come.