Four unexpected companions who set out on an epic international journey are at the core of this tale of identity and self-discovery in Joy Ride.
When Audrey's (Ashley Park) business trip to Asia goes awry, she enlists the help of Lolo (Sherry Cola), her rambunctious, hot-mess childhood best friend; Kat (Stephanie Hsu), her college classmate turned Chinese drama star; and Deadeye (Sabrina Wu), Lolo's oddball cousin.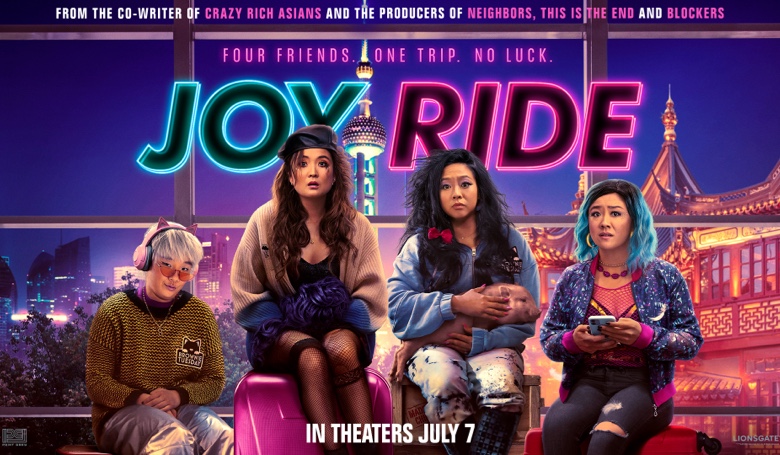 Their epic, no-holds-barred adventure turns into a voyage of connecting, camaraderie, belonging, and wild excess that illuminates the universal meaning of knowing and loving who you are.
Behind The Scenes Of Joy Ride
Adele Lim is the director of the brand-new film Joy Ride. The Joy Ride behind the scenes video demonstrates Adele Lim's stage behavior. Ashley Park, Sherry Cola, Stephanie Hsu, and Sabrina Wu are part of the cast of Joy Ride 2023. The humorous side of Ashley Park is depicted in Making of Joy Ride.
According to the film's director, Adele Lim, she based the narrative on her own experiences. The cast interviews are part of the Joy Ride 2023 behind the scenes video. Ashley Park discusses Mulan, her first encounter with a major motion picture. The production design is shown in the Joy Ride B-Roll.
Ashley Park is praised by Sherry Cola, who also discusses their friendship. Bloopers from Joy Ride will be made accessible following the DVD's release.
Check out the video on FilMonger's official channel and enjoy the 12 minute of fun clips of the cast. On Friday, July 7, 2023, Joy Ride will have a nationwide release. As they wait, the fans are excited to see it.